Central LABC Awards for Woolley Firs Stables and Cartshed
The conversion works of the redundant 18th century farm building into an Education Centre for the Berks, Bucks & Oxon Wildlife Trust BBOWT were recognised by Central Local Authority Building Control as having a high standard of construction and workmanship. They were awarded the winner of the Best Educational Building at the Central LABC Building Excellence Awards 2012. The works were also commended as Best Community Project 2012.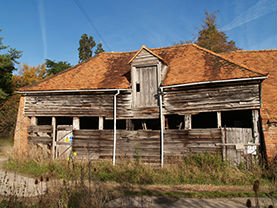 Oxley Conservation acted at the Lead Consultant on this project and carried out the contract administration of the building works which were funded by the Heritage Lottery Fund for BBOWT.
As well as environmental improvements including internal wall insulation IWI, underfloor heating was provided by a ground source heat pump and ecological benefits included a bat void and works to mitigate impact on newts and frogs.
This Education Centre allows BBOWT to offer programmes for children of all abilities to learn in different ways with lots of opportunities for hands-on engagement.