News
Natural Materials & Retrofit: in Detail
On Monday 5th December 2022, Richard Oxley spoke at the Architects Climate Action Network (ACAN) retrofit webinar Natural Materials & Retrofit: in Detail. The event focused on why natural materials have been chosen for retrofit of older homes.
Quarr Abbey – Two Abbeys Project
On Monday 11th July 2022 Richard Oxley led a guided tour of Quarr Abbey and the Ruins. This tour formed part of the Two Abbeys Project.
CPD Day for Surveyors
Richard Oxley delivered a speech on Practical Surveying of Older Buildings at a CPD event on Wednesday 2nd March 2022 at the Holiday Inn, High Wycombe.
INTBAU Timber Talk
Richard Oxley spoke about historic timber-framed buildings at the INTBAU Timber Talk event on 27th January 2020 in Shoreditch, London.
Our 2019 Conservation Day
Our 2019 Conservation Day was held on Wednesday 13th November at The Chantry House, Henley on Thames. Speakers included Phil Ogley of Oxley Conservation, Dr James Moir of the Buckinghamshire Historic Buildings Trust, Marianne Suhr, co-author of Old House Eco Handbook, Dr Sarah Doherty of John Moore Heritage Services and Lewis Proudfoot of Cliveden Conservation. Please click here for further details.
Keeping the Heat In! – Oxfordshire Green Week 2019
As part of Oxfordshire Green Week 2019, Richard Oxley gave a guided tour of the house and gardens at The Abbey, Sutton Courtenay on 10th June 2019 to allow visitors to see behind the scenes of this glorious Grade I listed medieval Manor House surrounded by 4 acres of wildlife-rich woods, productive walled garden and grassland situated just south of Abingdon. As the charity which stewards The Abbey as a retreat and conference centre turns 40 they celebrated the restoration achieved since 1979 whilst still looking to future-proof the building for those who will live there during the next 40 years.
Five Counties Conference 2019
Richard Oxley spoke about Surveying Heritage Property at the Five Counties Conference 2019 at Wycombe Swan Theatre in High Wycombe on Wednesday 27th February 2019.
Our 2018 Conservation Day
Our 2018 Conservation Day was held on Wednesday 14th November 2018 at The Chantry House, Henley on Thames. We celebrated our 21st anniversary in building conservation. Speakers included Richard Peats of Historic England, Alan Gardner of Arcadis, Peter Norris of Oculus Building Consultancy and Lucy Kaszewska of Hirst Conservation. Click here for further information about the day.
Our 2017 Conservation Day
Our 2017 Conservation Day was held on Wednesday 22nd November at The Chantry House, Henley on Thames. The theme for the day was timber-framed buildings and materials. Speakers included Michael Dunn, Principal Inspector of Historic Buildings and Areas for Historic England, Joe Thompson, Carpenter in Residence at Weald & Downland Living Museum, Simon Corbey, Associate Director of The Alliance of Sustainable Building Products and Steve Finney, a traditionally trained carpenter and joiner.
IHBC South Branch Summer Seminar
On Friday 14th July 2017, Richard Oxley gave a speech about Conservation vs Restoration at the IHBC South Branch Summer Seminar. The seminar covered a range of topics directly relating to the IHBC's Membership Competencies and Code of Conduct. 
Oxford Green Week
On Wednesday 21st June 2017 Richard Oxley gave a presentation on "Overcoming the Barriers to Energy Efficiency in Older Buildings" at the "How to Green your Historical Home" event during Oxford Green Week.
Our 2016 Conservation Day
Our 2016 Conservation Day was held on Wednesday 23rd November at The Chantry House, Henley on Thames, a Grade I listed building. Presentations were given by Richard Oxley, Phil Ogley and Liz McGugan of Oxley Conservation. Nigel Copsey, a stonemason and building conservator, spoke about the history of hot mixed limes and gave a practical demonstration. Ian Mawditt from Four Walls spoke about ventilation, energy efficiency and old buildings. Peter King from Aereco spoke about ventilation systems. The day was very well received.
STBA Masterclass
Richard Oxley presented a masterclass on Surveying Retrofitted Buildings for the STBA Sustainable Traditional Buildings Alliance on Tuesday 18th October 2016 at the Sustainable Development Foundation offices in London. 
Our 2015 Conservation Day
Our 2015 Conservation Day was held on Wednesday 11th November 2015. Speakers included Professor Bill Gething from the University of the West of England, Caroline Rye from ArchiMetrics Ltd, Dr Martin Coombes from Oxford University and Stacey Waring, an interdisciplinary zoologist.  
DAC Conference 2015
Richard Oxley gave a talk on historic masonry conservation on Monday 21st September 2015 at the DAC Conference in the Diocese of Oxford.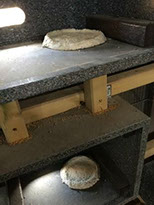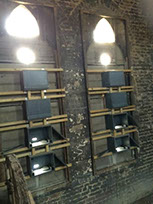 Swift Boxes at Sacred Heart, Reading
Nest moulds made by Edward Mayer of Swift Conservation were placed in the swift boxes at the spire of the Sacred Heart Church in Reading at the beginning of May 2015. The swift call boxes will be turned on every Spring in an attempt to attract swifts to nest.
Our 2014 Conservation Day
We held a Conservation Day in November 2014. The day comprised of a series of informative and thought-provoking presentations Challenges and Conflicts in Building Conservation. The day was set in The Chantry House, a beautiful Grade I medieval timber framed building in Henley on Thames. Speakers included Natalie Merry, Oxford DAC Secretary, Brian Ridout, Senior Architectural Conservator at English Heritage, Roz Artis, Director of the Scottish Lime Centre Trust, Graham Stone from Stonehouse Property Care, Matt Smith from Natural Building Technologies Ltd as well as a practical demonstration on how we are using a remotely piloted aircraft drone to assist in high level inspection surveys. The day was well received with positive feedback. 
Richard Oxley's podcast
Richard Oxley talked to House Planning Help about why understanding an old house is such a vital first step to take before upgrading its performance. House Planning Help's aim is to ask experts in their field questions about building or retrofitting in order to broaden people's outlook of what building or renovating a house is all about and therefore building a better home as a result. Click here for the podcast.
Update on Woolley Firs Conversion Project
Monitoring at Woolley Firs show positive results and benefits of internal wall insulation [IWI] installed at the farm building conversion for BBOWT. The results of the monitoring will help provide confidence in the use of IWI on solid walled buildings and their ability to continue to allow the traditional performance of the walls. Click here for the findings.
STBA – first affliate member
In 2013, Oxley Conservation became the first affliate member of the STBA the Sustainable Traditional Buildings Alliance, who have a mission to understand and quantify the real performance of traditional buildings regarding energy and carbon use, resource efficiency and health effects.
Central LABC Awards for Woolley Firs Stables and Cartshed
The conversion works of the redundant 18th century farm building into an Education Centre for Berks, Bucks & Oxon Wildlife Trust BBOWT were recognised by Central LABC as having a high standard of construction and workmanship. They were awarded the winner of the Best Educational Building at the Central LABC Building Excellence Awards 2012. Click here to read more.